SLE community, We want to thank you for being so flexible/understanding in times like this. We WILL have school tomorrow (Friday). If your child isn't feeling well, please keep them home. Students/staff shouldn't return to school until 24 hours after their last symptoms (without the aid of medicine). If you prefer to keep your child home to be cautious, we understand and support that decision. Please share. Mr. Gibbs

SLE Community, After monitoring the number of staff/subs available and trying to come up with a plan that would allow us to safely operate a school, we have decided to cancel school tomorrow. With the level of contagiousness, we also think it's important to limit the spread to our community. We will take this opportunity to deep clean the schools and classrooms. Please remember that students shouldn't return to school until a minimum of 24 hours after any flu like symptoms. We apologize for the inconvenience that this puts on our families. Please share! Mr. Gibbs

Attention: PLEASE READ We have had a lot of students and staff out this week due to a stomach bug. Today we were unable to get enough subs to fill all of the staff that was out. We were able to shuffle our staff and get it covered. We are concerned that tomorrow we might not have enough staff to safety operate the school. We are working hard on our plans to have everything covered to safely open. We will make a decision by 7:30 pm (tonight) if we can safely open. Please check the Facebook page, app or website for updates. If you haven't already, download the app on Android:
https://bit.ly/3nT702x
or iPhone:
https://apple.co/3o0bnsH
.

This week at SLE: Monday, March 28th - First Day of Track (Practice 3:15 - 4:30) Tuesday, March 29th - Two Valley Stage Friday, April 1st - End of Quarter 3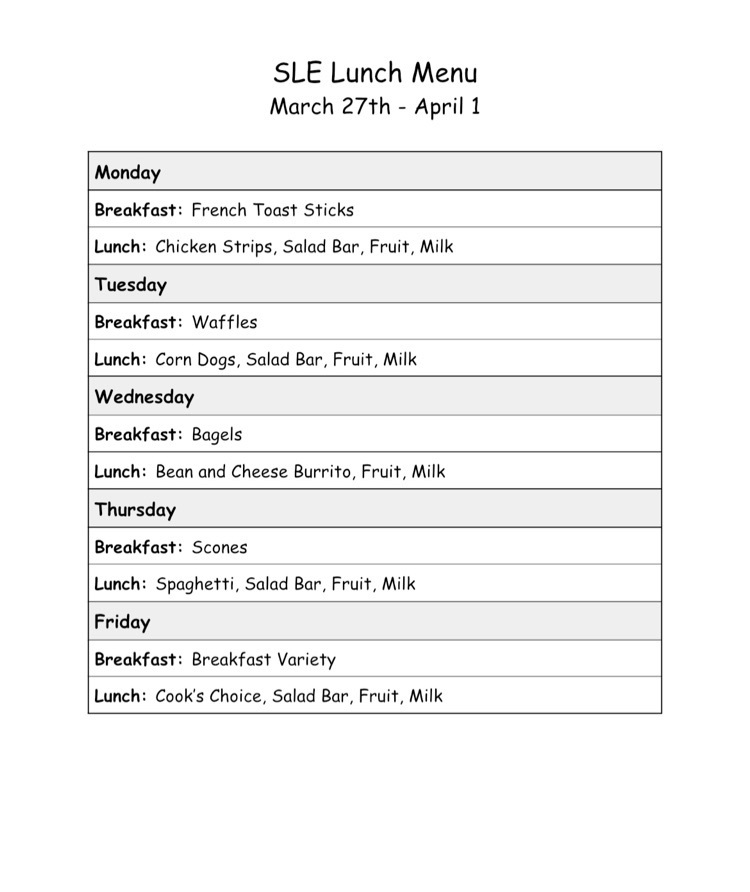 Reminder that tomorrow is the first day of 5th-8th grade track practice. All athletes must have a current physical on file to participate.

Copper League Champions! Our girls capped of a great season by binging home 1st place at the Copper League tournament. It was a great night to see all of the support our families and community showed for these girls. We are excited to watch the 8th graders compete as Blackhawks next year. Thank you coach Bradley and coach Mary for all that you do. #soarlikeanesgle #champs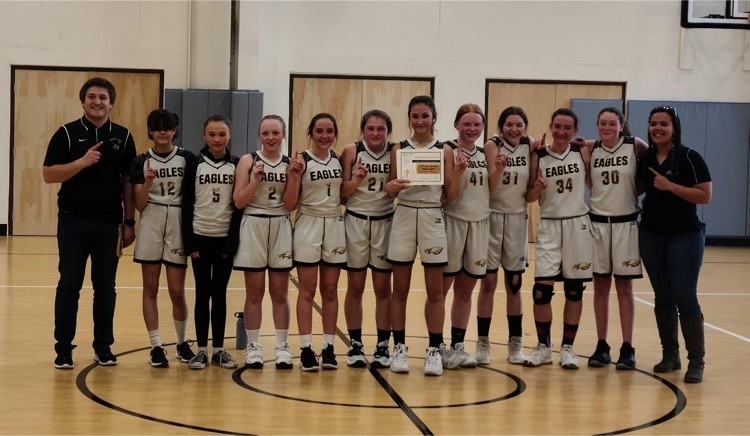 Our girls won tonight and move into the semifinals. They will play MIS tomorrow (Tuesday) @ St. Joe's 5:00 pm tip-off. If the win they will play for the championship on Thursday 4:00pm (note time change from original bracket) @ Desmet

Upcoming Events: Monday, March 14th - Girls Basketball @ Clinton vs Desmet 5:30 Tuesday, March 15th - Board Meeting March 21st - 25th - SPRING BREAK Friday, April 1st - End of Q3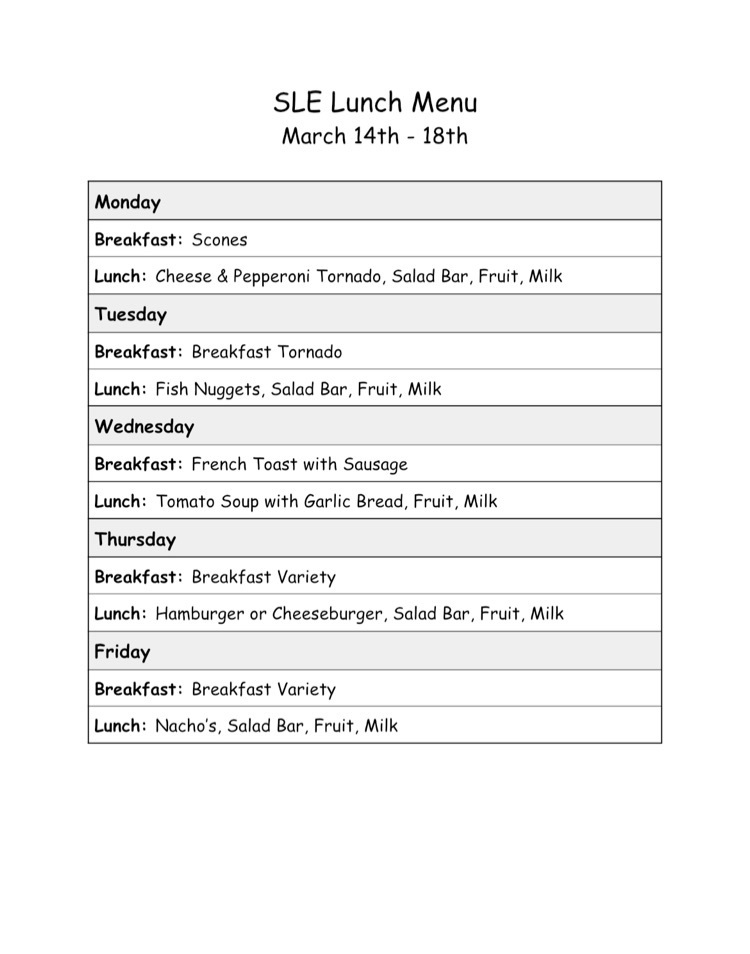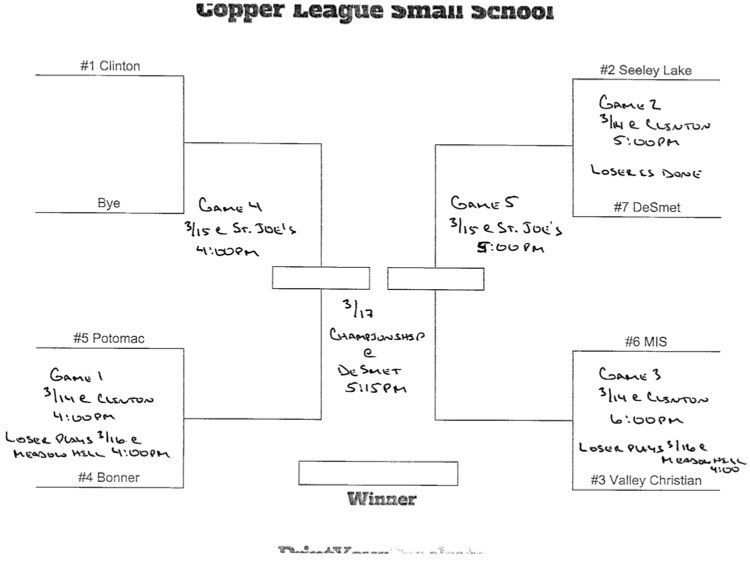 The 6th graders were able to raise $667.32 from their bake sale. They want to thank everyone who helped and purchased sweets. They are super excited to put this money towards going on a geology field trip.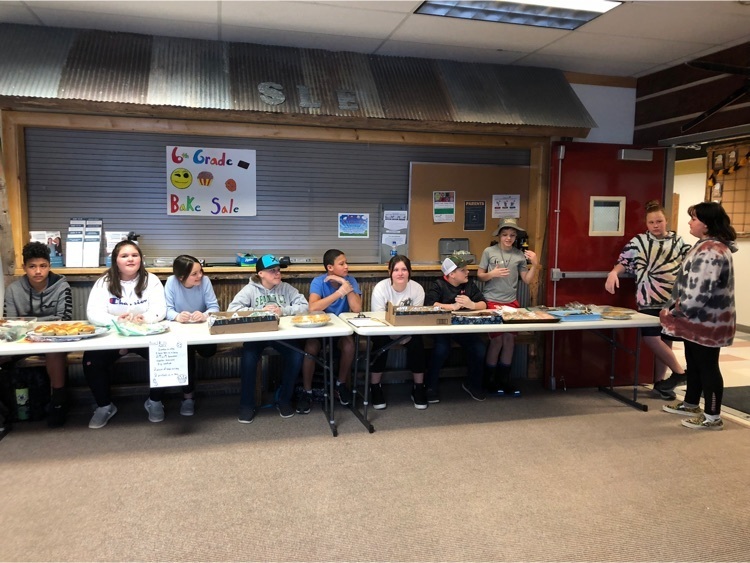 The 6th grade class will be having a bake sale on Monday after school. There will be individual treats for sale and a peach pie for auction. Come buy some treats and cheer on the girls in their last home game of the year!

This week at SLE: Monday, Feb. 28 - Girls Basketball @ Clinton Wednesday, March 2 - 'I Love to Read' dress up as a book character Thursday, March 3 - Girls Basketball VS MIS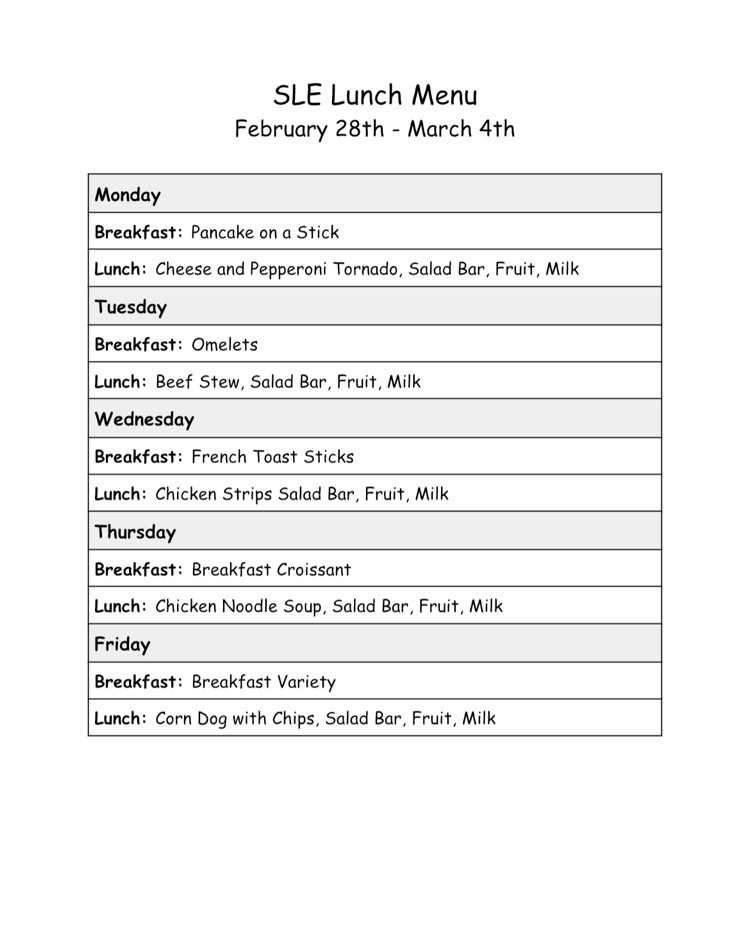 The school email/website is currently down. It looks like we have been experiencing troubles since noon yesterday. We are currently working on the problem and should have it fixed this morning. If you are trying to reach us please call the office at 677-2265. Thanks!

Reminder that tomorrow, Thursday, Feb. 24th is an early out for students. Dismissal is at 12:25 and buses will leave the school around 12:35. There won't be any after school programs offered. This time is designated for staff training. Thanks!

We have added a couple more games to our girls season.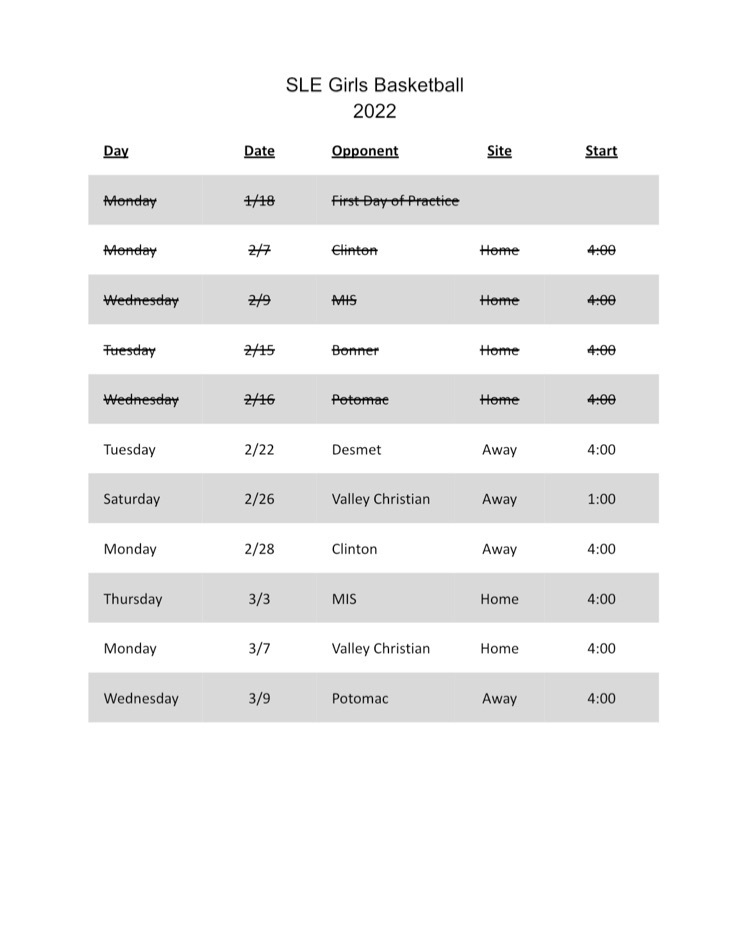 Unfortunately Potomac only has enough players for one game tomorrow. Our A team will play at 4:30. Coach Bradley may have some of the younger girls suit up.

Congratulations to Kieu and Kimber for their second place finishes at the Lubrecht over the weekend!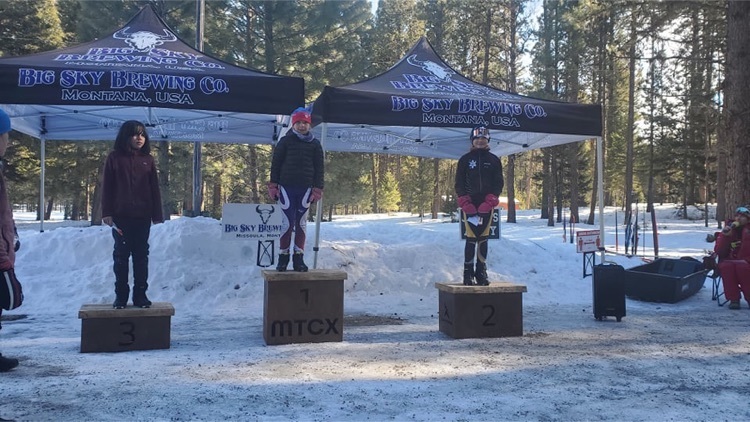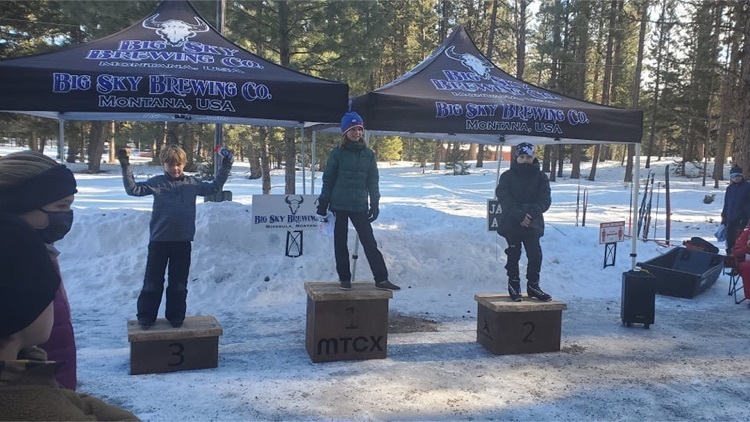 Upcoming events: Tuesday, Feb. 15- Two Valley Stage Performance Tuesday, Feb. 15 - Girls Basketball vs Bonner Wednesday, Feb. 16 - Girls Basketball vs Potomac Monday, Feb. 21 - No School Tuesday, Feb. 22 - Board Meeting Thursday, Feb. 24 - 12:25 Dismissal; Staff PIR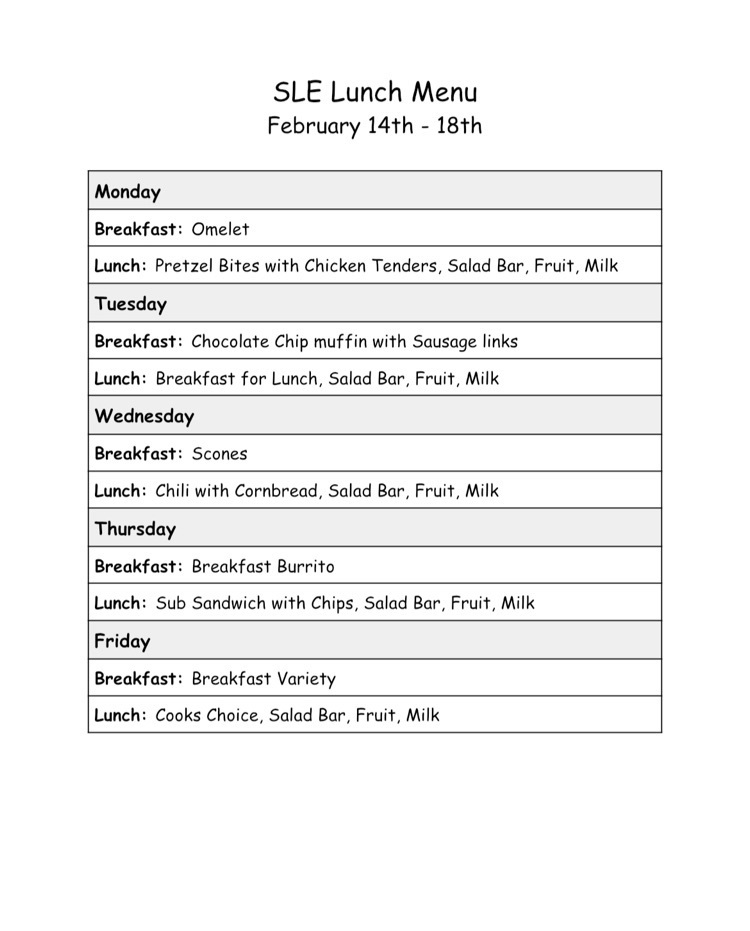 Thank you Toni Sexton for everything you do. Our kids all know they have you on their side. Thanks for all that you do for your kids and school!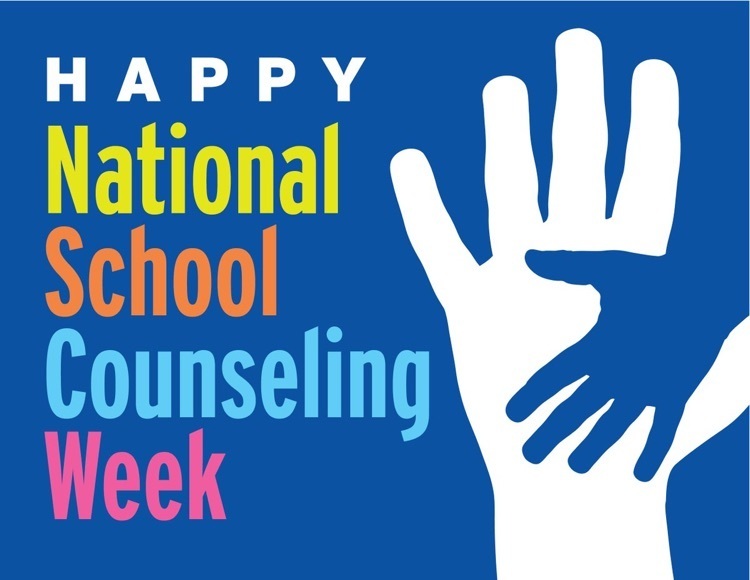 On Wednesday morning, Feb. 9, a SLE staff member was informed of a report that a student was talking about having a weapon. Mr. Gibbs notified the Missoula County Sheriffs department through Deputy Heath Hanson of a potential threat. The student was secured and questioned. The student and students possessions were searched. After further investigation the student was discussing the new BB gun that they just got (at home). It was deemed that there wasn't a threat to the school. Thank you to our local law enforcement for the prompt response. Mr. Gibbs

Friday is our 6th- 8th grade Valentine's Day Dance. Swan Valley is hosting this dance in Condon. We will provide a bus for SLE students. The bus will leave SLE at 5:30 and return around 8:30. We will send home parent permission slips to ride the bus tomorrow. Students must have this filled out to ride the bus. If you want to drive your child up and pick them up that is fine. The dance is from 6-8.