This week at SLE: Wednesday, May 4th - Track @ Stegner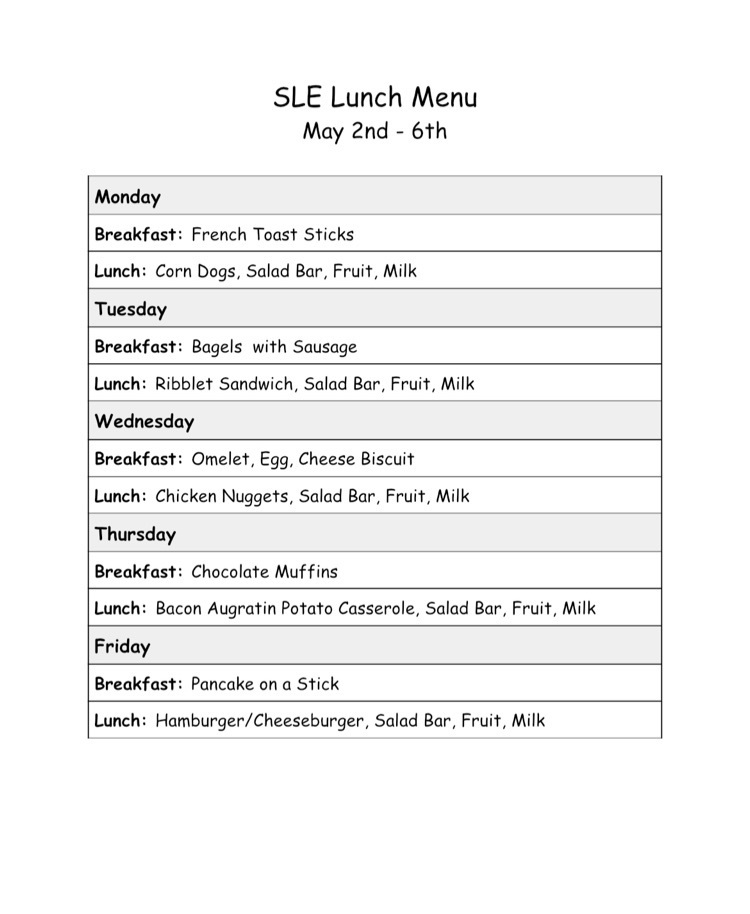 Friday's lunch will be chicken beacon ranch wraps with chips.

Today we celebrate Suzie our wonderful secretary! Thank you for keeping our school organized and running smoothly! We appreciate everything that you do!

This week at SLE: Tuesday, April 26 - Winter Sports Banquet 6:00pm Wednesday, April 27 - Track @ Frenchtown Thursday, April 28 - Two Valley Stage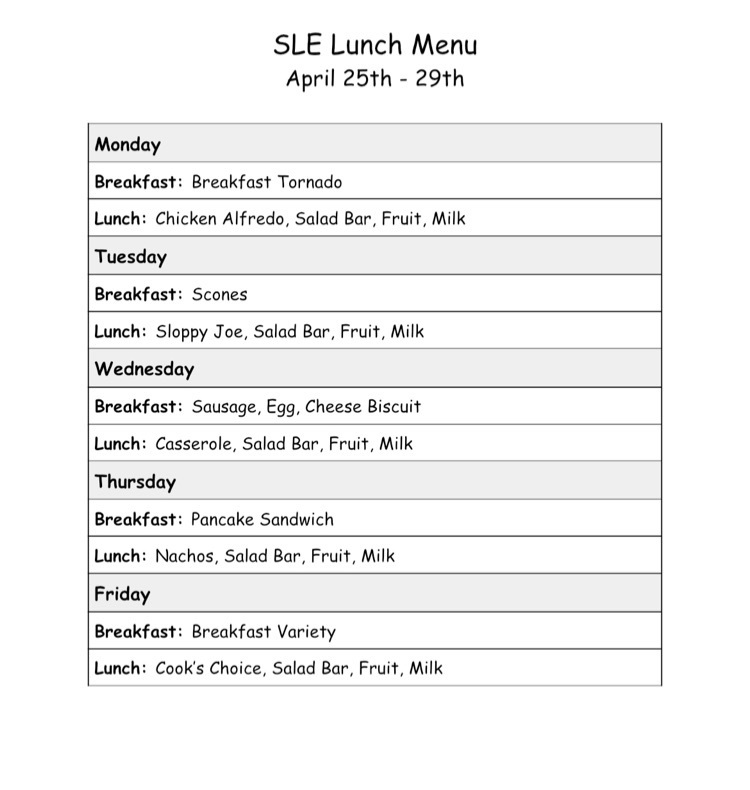 Reminder that tomorrow (Thursday) is an early out. Students will be dismissed at 12:25. Buses will run at this time. There is no STEAM/after school program. Thanks,

This week at SLE: Thursday, April 21 - Early Dismissal Thursday, April 21 - Track @ Stenger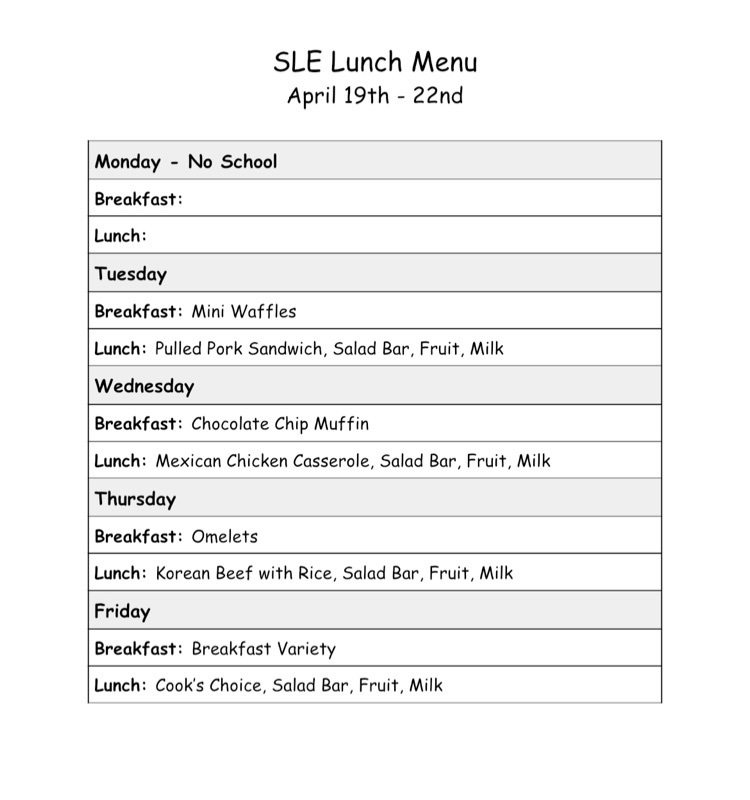 The first day of Seeley Lake Club Baseball will be Monday, April 18th. The practice will be for all K-8 kids wanting to play. A more detailed practice schedule will be provided on Monday. Please bring cleats and gloves, if possible. If you have questions, please email Nathan Miller at
nmiller@pga.com

Unfortunately the track meet today was cancelled. The bus will return around 8:15. Have a great long weekend!

Congrats Hale!! He got second in the region for his fire prevention art! It's moving forward to state judging!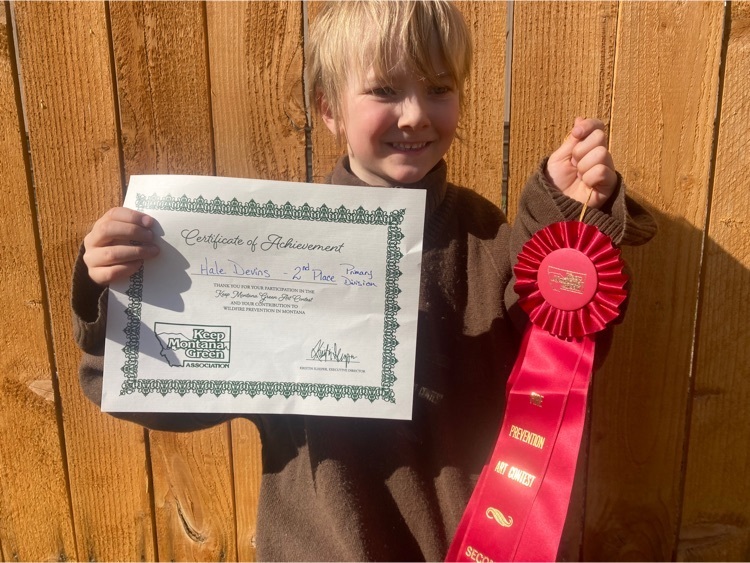 Upcoming Events Wednesday, April 13 - Parent Teacher Conferences Thursday, April 14 - Parent Teacher Conferences Friday, April 15 - No School Friday, April 15 - Track @ Charlo Monday, April 18 - No School Monday, April 18 - School Board Meeting Thursday, April 21 - Early Dismissal Thursday, April 21 - Track @ Stenger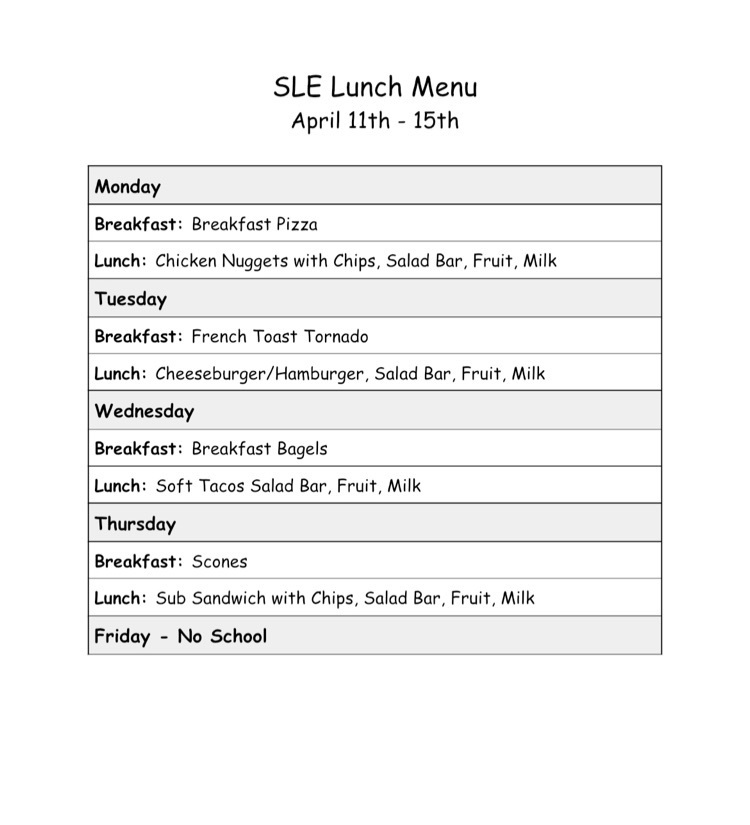 Reminder class pictures and retakes are tomorrow.

"Band Help Night" New Schedule This is not required but an opportunity to get extra help. Tuesdays - 5:30pm - Percussion 6:00pm - Woodwind 6:30pm - Brass

We have a community member who is organizing a Seeley Lake Baseball program. All school age kids will be accepted looking at K-4th for tee ball and 5th – 8th will be overhand. They are going to have an informational meeting on Tuesday, April 12th @ 5:30. The meeting will be held in the gym. If you can't make meeting please email Nathan Miller at
nmiller@pga.com

Reminder class pictures/retakes are this Friday, April 8th. Class picture packets were sent home last week. Retake forms will be available tomorrow afternoon (in the office).

Congratulations to teacher Sheila! She was selected for the Early Childhood Champion Direct Service Award! The Early Childhood Champion Awards are designed to honor excellence in those supporting young children and their families, whether working in direct service (child care providers, home visitors, etc.), as advocates, as volunteers, or even entire organizations. We are so proud of you! Thank you for all that you do for our students!

SLE community, We want to thank you for being so flexible/understanding in times like this. We WILL have school tomorrow (Friday). If your child isn't feeling well, please keep them home. Students/staff shouldn't return to school until 24 hours after their last symptoms (without the aid of medicine). If you prefer to keep your child home to be cautious, we understand and support that decision. Please share. Mr. Gibbs

SLE Community, After monitoring the number of staff/subs available and trying to come up with a plan that would allow us to safely operate a school, we have decided to cancel school tomorrow. With the level of contagiousness, we also think it's important to limit the spread to our community. We will take this opportunity to deep clean the schools and classrooms. Please remember that students shouldn't return to school until a minimum of 24 hours after any flu like symptoms. We apologize for the inconvenience that this puts on our families. Please share! Mr. Gibbs

Attention: PLEASE READ We have had a lot of students and staff out this week due to a stomach bug. Today we were unable to get enough subs to fill all of the staff that was out. We were able to shuffle our staff and get it covered. We are concerned that tomorrow we might not have enough staff to safety operate the school. We are working hard on our plans to have everything covered to safely open. We will make a decision by 7:30 pm (tonight) if we can safely open. Please check the Facebook page, app or website for updates. If you haven't already, download the app on Android:
https://bit.ly/3nT702x
or iPhone:
https://apple.co/3o0bnsH
.

This week at SLE: Monday, March 28th - First Day of Track (Practice 3:15 - 4:30) Tuesday, March 29th - Two Valley Stage Friday, April 1st - End of Quarter 3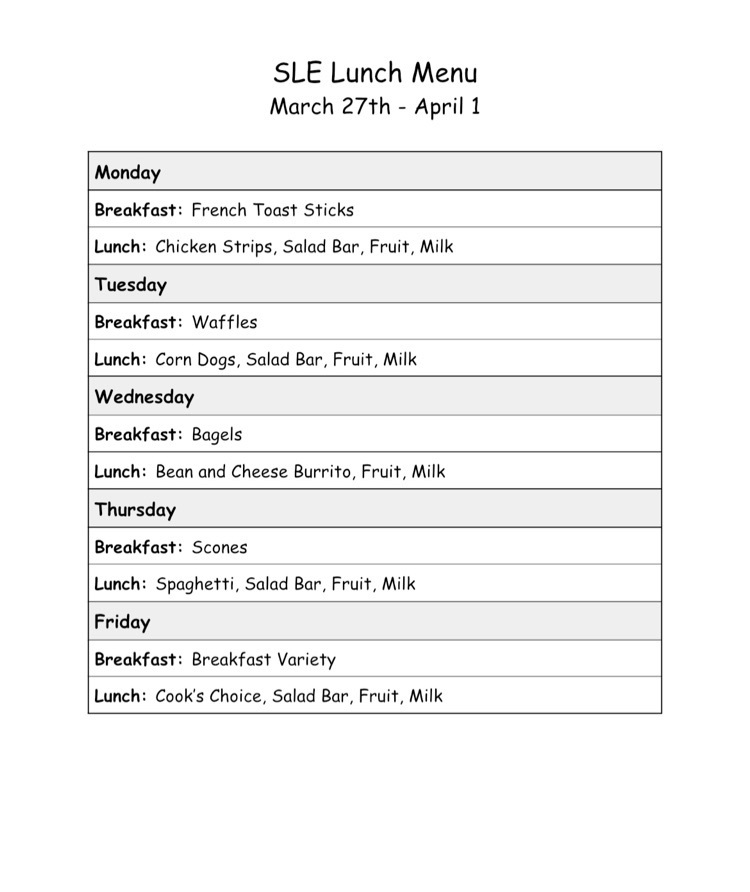 Reminder that tomorrow is the first day of 5th-8th grade track practice. All athletes must have a current physical on file to participate.