The 6th graders were able to raise $667.32 from their bake sale. They want to thank everyone who helped and purchased sweets. They are super excited to put this money towards going on a geology field trip.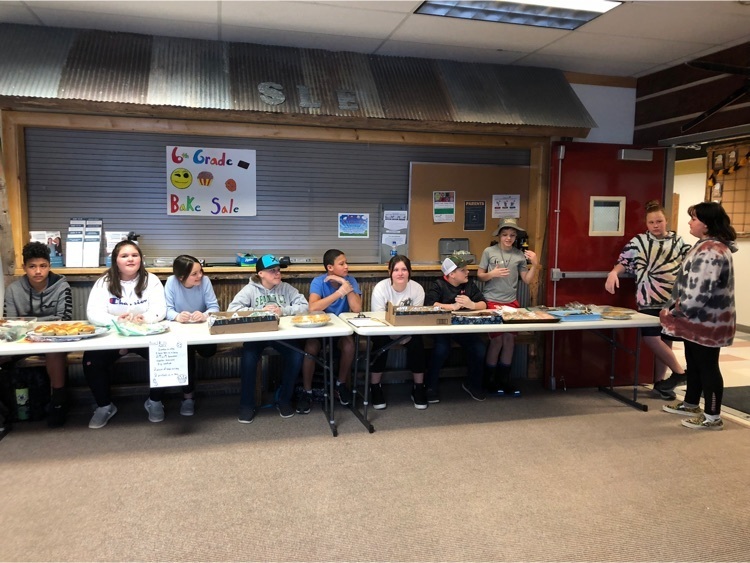 The 6th grade class will be having a bake sale on Monday after school. There will be individual treats for sale and a peach pie for auction. Come buy some treats and cheer on the girls in their last home game of the year!

This week at SLE: Monday, Feb. 28 - Girls Basketball @ Clinton Wednesday, March 2 - 'I Love to Read' dress up as a book character Thursday, March 3 - Girls Basketball VS MIS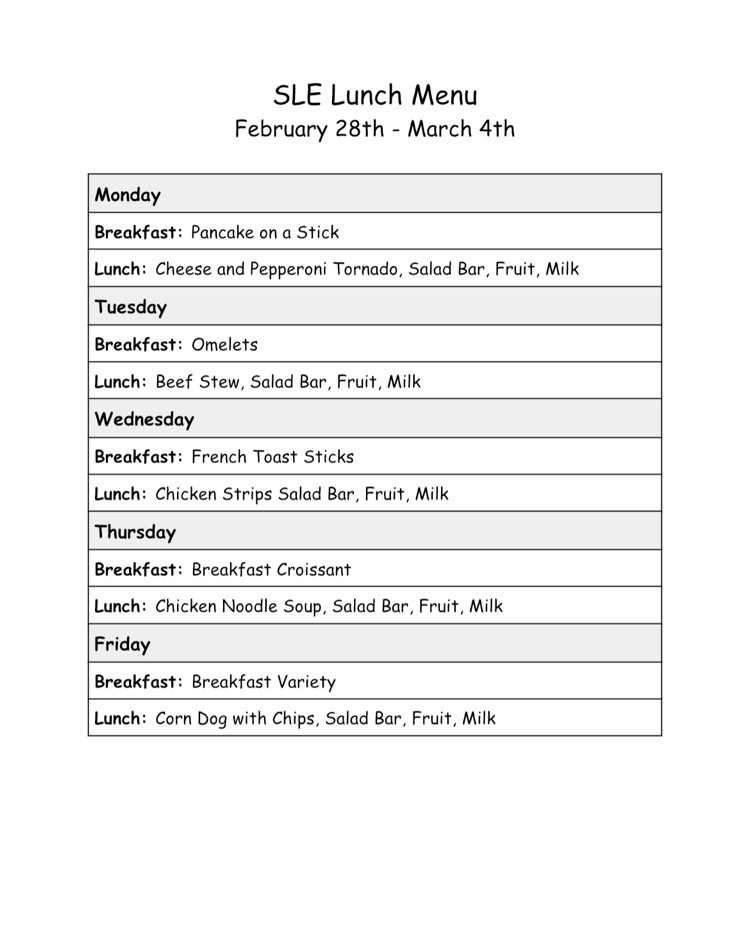 The school email/website is currently down. It looks like we have been experiencing troubles since noon yesterday. We are currently working on the problem and should have it fixed this morning. If you are trying to reach us please call the office at 677-2265. Thanks!

Reminder that tomorrow, Thursday, Feb. 24th is an early out for students. Dismissal is at 12:25 and buses will leave the school around 12:35. There won't be any after school programs offered. This time is designated for staff training. Thanks!

We have added a couple more games to our girls season.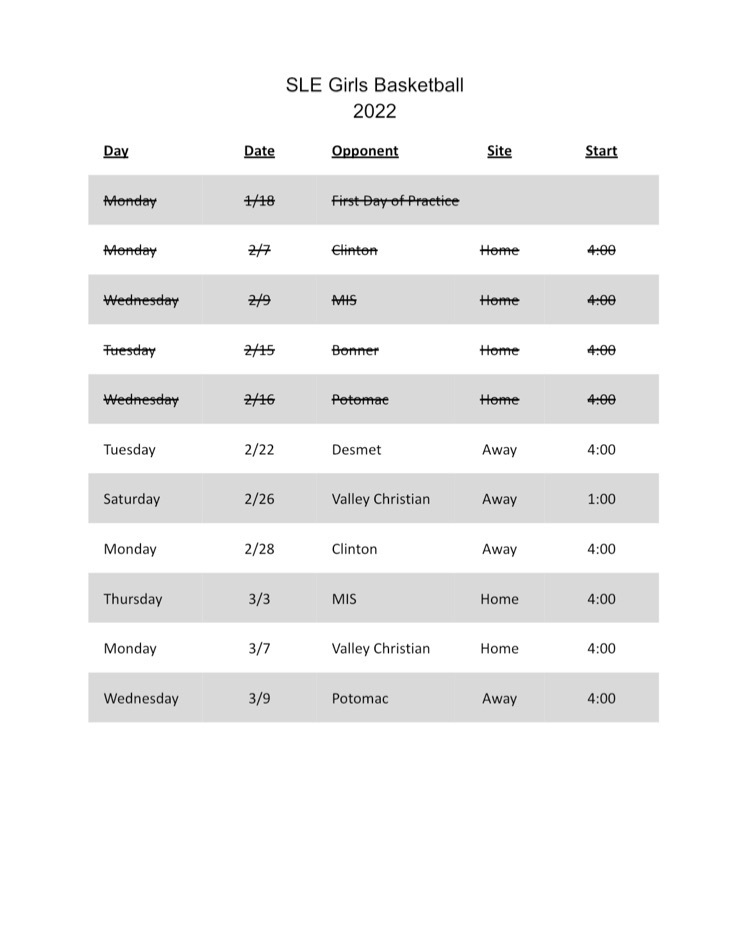 Unfortunately Potomac only has enough players for one game tomorrow. Our A team will play at 4:30. Coach Bradley may have some of the younger girls suit up.

Congratulations to Kieu and Kimber for their second place finishes at the Lubrecht over the weekend!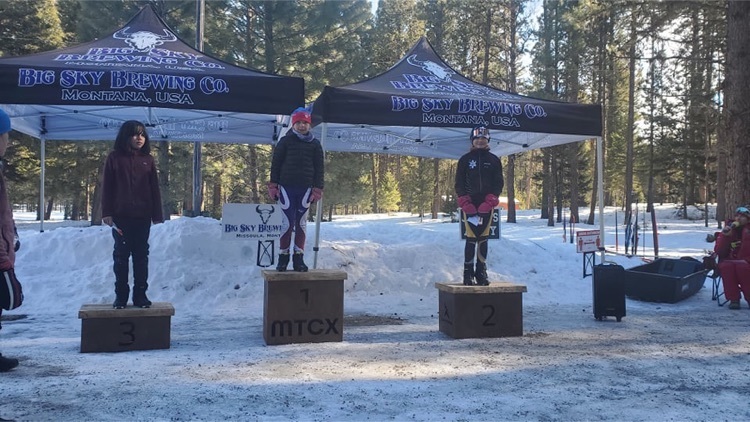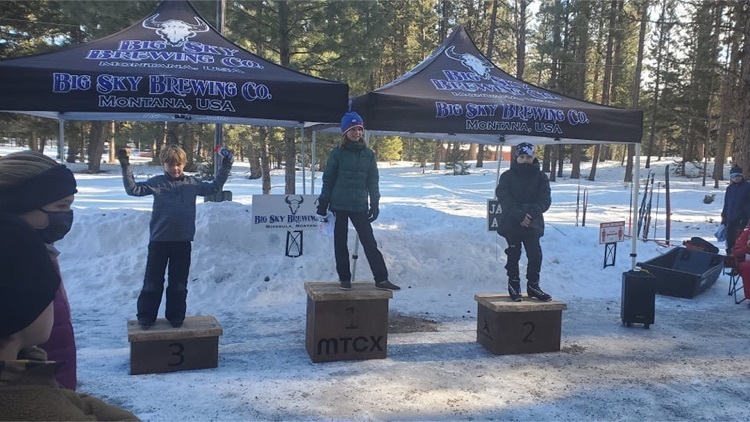 Upcoming events: Tuesday, Feb. 15- Two Valley Stage Performance Tuesday, Feb. 15 - Girls Basketball vs Bonner Wednesday, Feb. 16 - Girls Basketball vs Potomac Monday, Feb. 21 - No School Tuesday, Feb. 22 - Board Meeting Thursday, Feb. 24 - 12:25 Dismissal; Staff PIR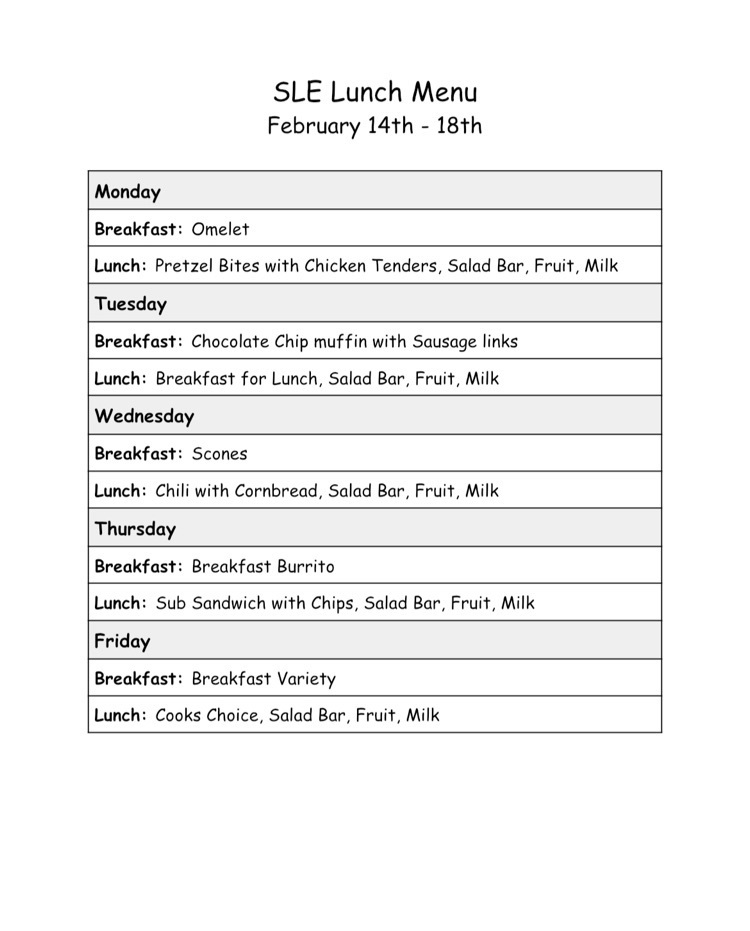 Thank you Toni Sexton for everything you do. Our kids all know they have you on their side. Thanks for all that you do for your kids and school!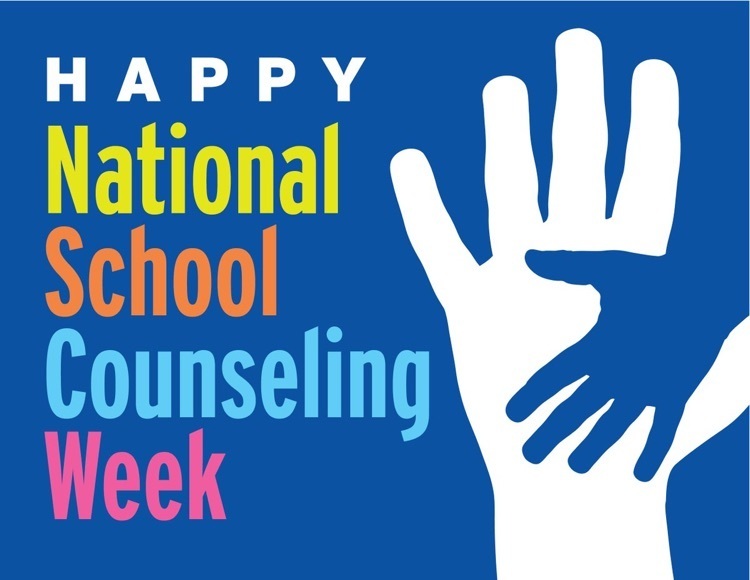 On Wednesday morning, Feb. 9, a SLE staff member was informed of a report that a student was talking about having a weapon. Mr. Gibbs notified the Missoula County Sheriffs department through Deputy Heath Hanson of a potential threat. The student was secured and questioned. The student and students possessions were searched. After further investigation the student was discussing the new BB gun that they just got (at home). It was deemed that there wasn't a threat to the school. Thank you to our local law enforcement for the prompt response. Mr. Gibbs

Friday is our 6th- 8th grade Valentine's Day Dance. Swan Valley is hosting this dance in Condon. We will provide a bus for SLE students. The bus will leave SLE at 5:30 and return around 8:30. We will send home parent permission slips to ride the bus tomorrow. Students must have this filled out to ride the bus. If you want to drive your child up and pick them up that is fine. The dance is from 6-8.

Congratulations to our 2nd quarter Honor Roll students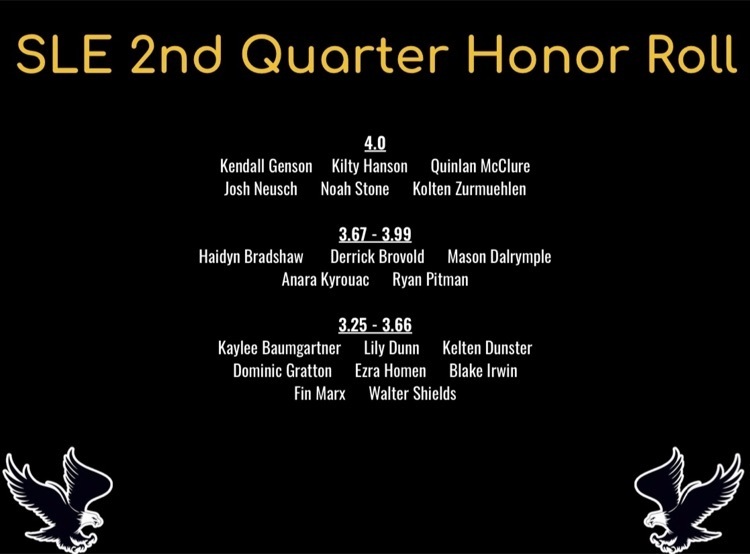 Unfortunately Clinton has low numbers of girls available to play today. There will only be an A team girls basketball game today. The A team will start at 4:00.

In the interest of keeping our community informed of the situation with active COVID-19 cases in our schools, Seeley Lake Elementary will release weekly report on the number of new positive cases in our school. COVID numbers for week of Jan. 31 - February 6; 3 new positive cases The families of all potential close contacts have been contacted. Our staff is working hard to keep these families up to date with needed information. As always, we recommend that any person who feels sick or ill, seek out their medical provider for specific instructions.

Upcoming Events: Monday, Feb. 7 - Girls Basketball vs Clinton Wednesday, Feb. 9 - Girls Basketball vs MIS Friday, Feb. 11 - School Dance 6:30 - 8:30 @ Swan Valley; Busing will be provided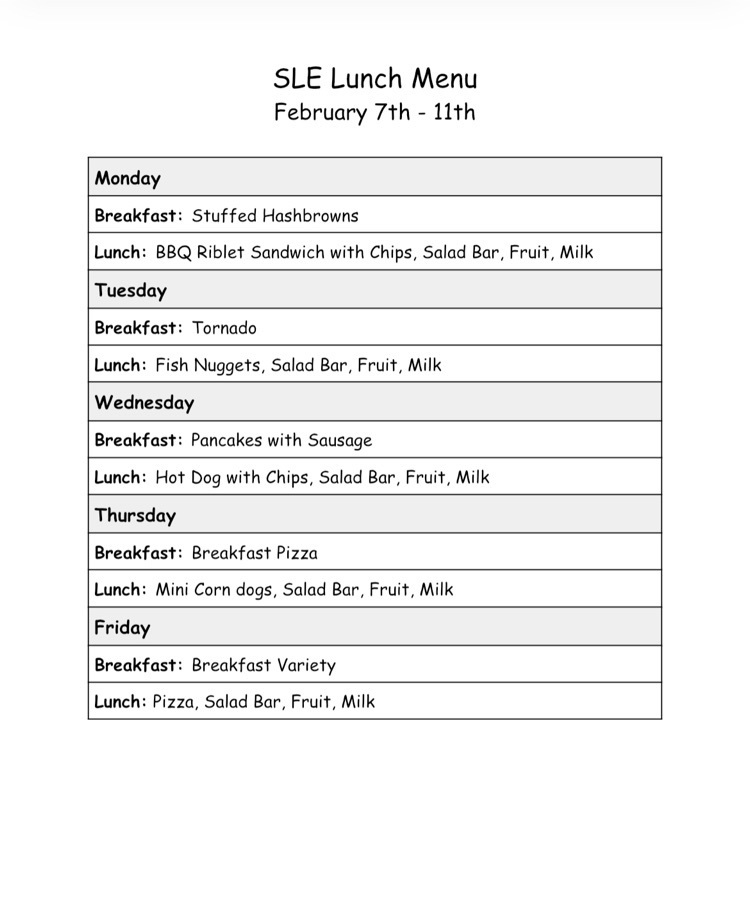 We are going to try something new. We are going to play "Are you smarter than a ________ grader". We will post a question that our students learned in school today. Today is "Are you smarter than a 6th grader". Rules are simple! Try to answer the question WITHOUT the use of google. We encourage you to share and tag friends. Today's question: "What are the comparative and superlative adjectives for heavy?"

Come support our Girls basketball team. Their season kicks off on Monday! #SLEPride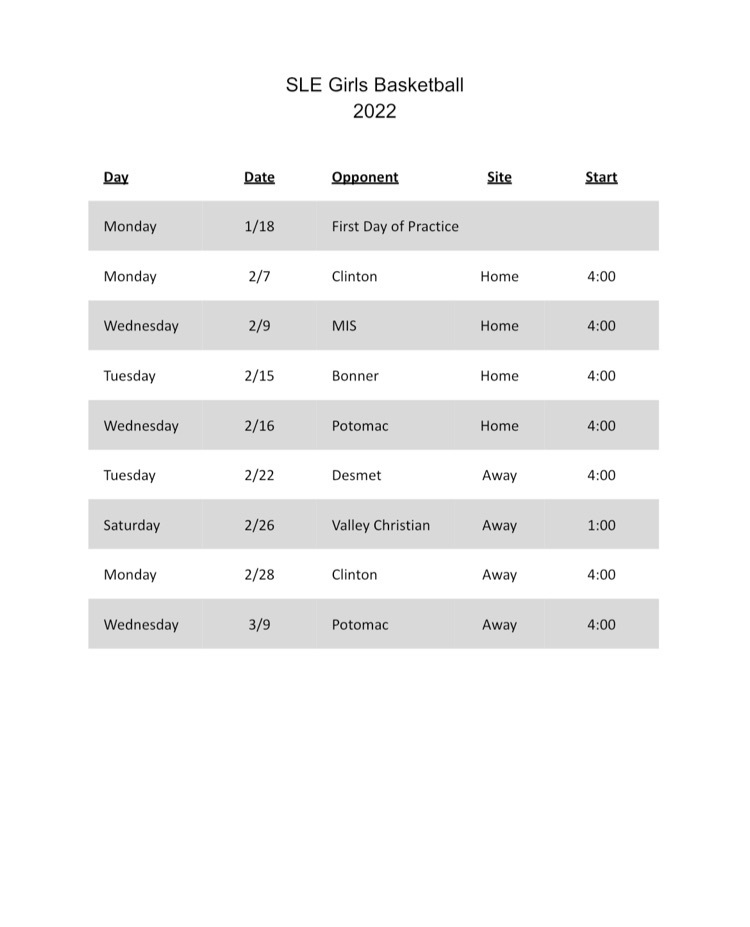 Lunch Menu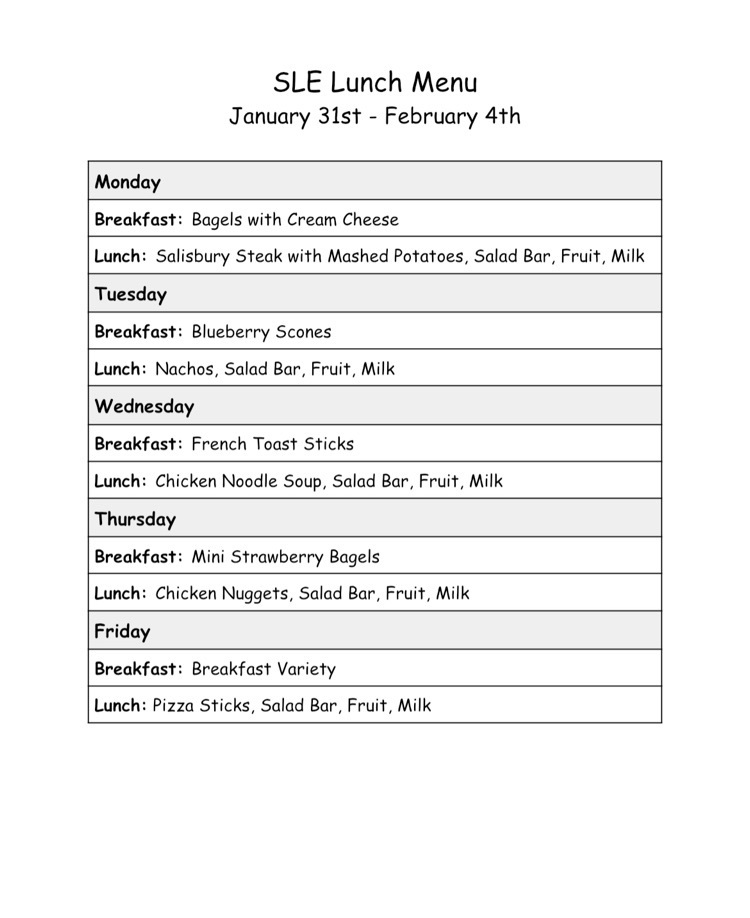 Reminder tomorrow is the last day purchase year books. The cost is $15 dollars. All 5th-8th grade yearbooks have been purchased through the generosity of some local business.