This week at SLE: Friday, Sep. 9th - Handbook papers due Saturday, Sep. 10th - Football vs Philipsburg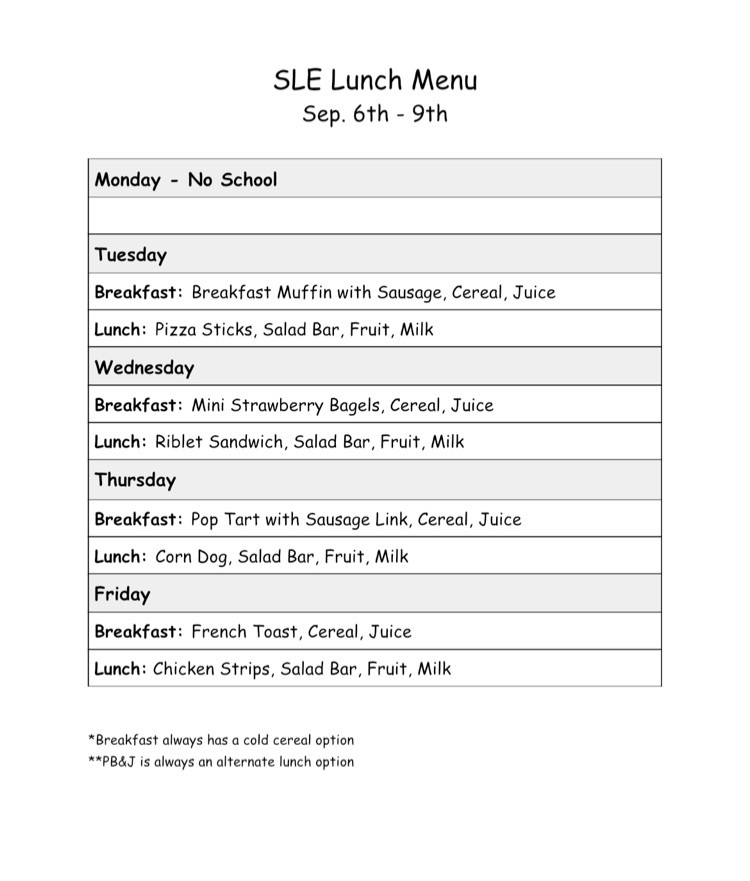 What a GREAT first day! It was awesome seeing all of our students back at school. Please keep an eye out for the student handbook coming home, you should see it by Friday. There are a few pages that need to be signed and returned to the school. We are hoping to get those all back by Friday, September 9th.

This week at SLE - Welcome Back! Monday, August 29 - First day of volleyball/football @ 3:00 Tuesday, August 30 - Open house 5:00 - 6:00 pm Wednesday, August 31 - First day of school Reminder: School runs from 8:00 - 3:06 Breakfast is served 7:30 -755 Student must have physicals to practice. We encourage them to attend practice if they don't have one. This way they can still listen to instructions and see drills. Can't wait to see you!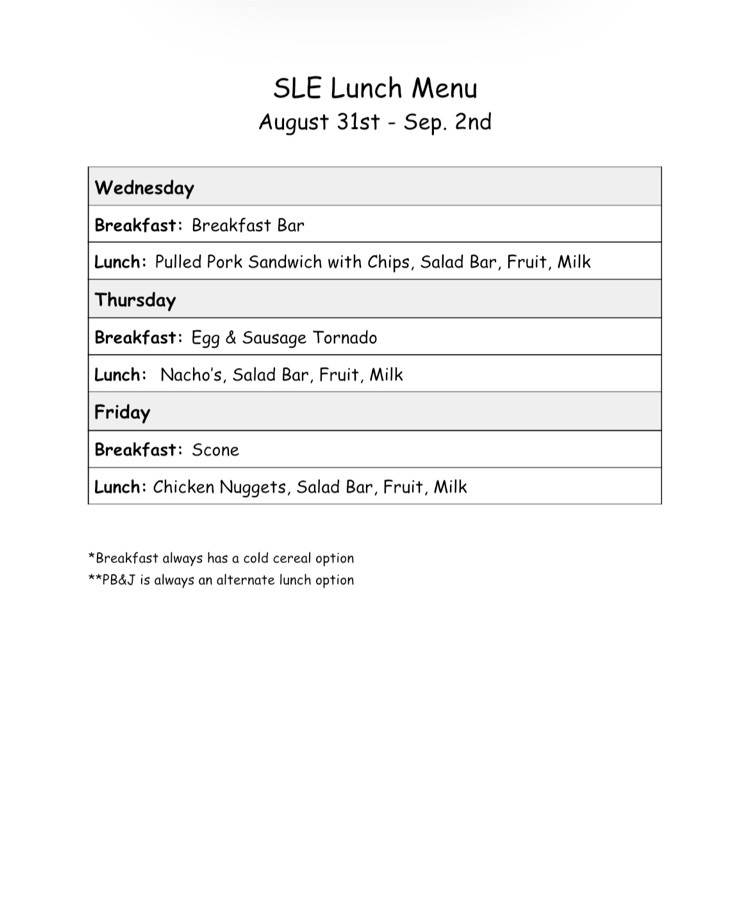 What a great first day back for teachers! We are working hard to get the school ready for our students to arrive. Below are a few reminders for the beginning of the year. - Please be mindful of our dress code when purchasing school clothes. For reference please see attached. - Open House: Tuesday, August 30th 5-6 pm - First day of school: Wednesday, August 30th. Breakfast will be served 7:30-8:00. School starts at 8:00 and is dismissed at 3:06 - Sports: Volleyball and football start on Monday, August 29th. Practice will run from 3:00-5:00. All players must have a physical to Participate in practice. If athletes don't have a physical they are encouraged to attend practice to watch. Concussion and fees can be turned in after practice starts. We should have a finalized schedule on the first day of practice.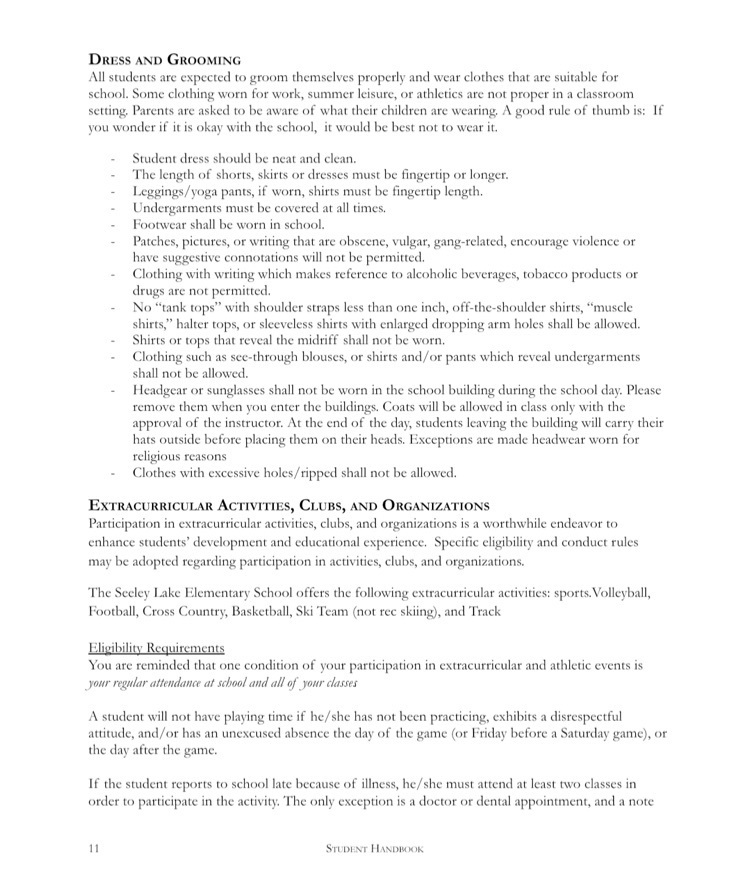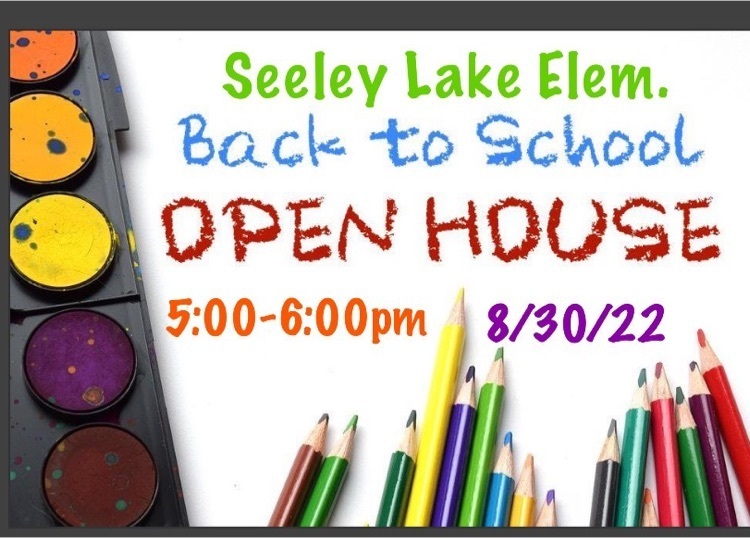 SLE families, please join us at our back to school open house!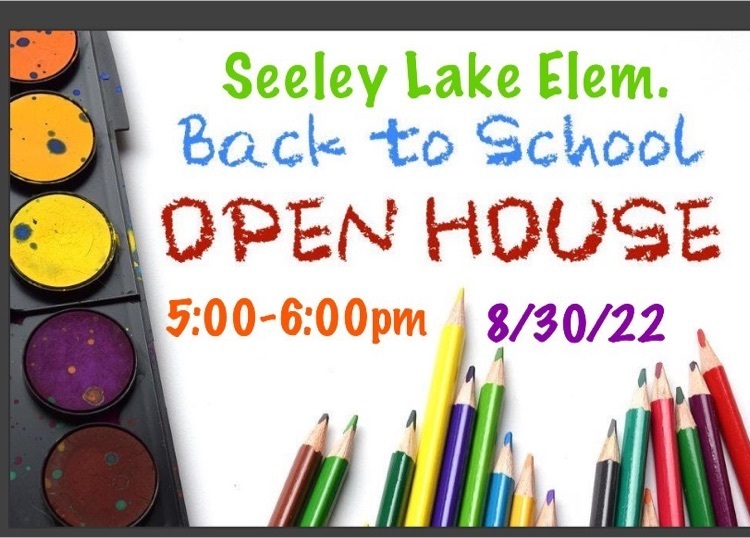 As we gear up for this school year we want to make you aware of some changes in lunch costs for next year. The previous two years we were running under a federal waiver that allowed all students to receive free lunches. Unfortunately, this program isn't continuing. Next year we will go back to charging for breakfast and lunch. Below is a link to the application for free and reduced meals. Filling this out can help determine if you qualify. It also helps the district receive other funding based off of your district's free and reduced rate. Paper applications are also available at the office. Thanks!
https://dca.opi.mt.gov/FRApp?sponsorNum=0597

Fall Athletics: As school approaches, we wanted to remind you of some of the things need for falls sports. Tentative start date for both volleyball and football practice will start on Monday, August 29th. Below are some of the forms required to practice on the first day. - Current Physical (After May 1, 2022). Below is a link to the current physical form. - Concussion student/parent form. (This is new and should be available next week)

Friendly reminder that our summer catch-up club has started back up. This program is open to all students in 1st-8th grade. This is an opportunity for your child to make some positive academic gains, before school starts. This is Monday and Wednesday from 10am - noon. Students don't have to attend every session.

Outdoor Adventure Club Weekly Schedule: Tuesday, July 19: canoe trail Wednesday, July 20: East Foothills and Cooney lookout. Thursday, July 21. Riverpoint As always, please monitor the weather and send kid prepared. Always send enough food and water for a full day of being active.

Outdoor Adventure Club Schedule July 12: Canoe Trail July 13: Lake Dinah July 14: Water day at Big Larch. Please remember to bring Extra water and Sun Protection its gonna be hot this week! Also, please try to arrive at 9:00. We try to get on the road before 9:30.

Seeley Lake Community, Are you interested in being a part of the Seeley Lake Park Committee? This is a small commitment that allows your input to help guide the direction of the park here at SLE. We are starting to develop a strategic plan to create a multi-year approach to address the future of our park. We have a meeting today (Monday, July 11 @ 3:30. Please feel free to join us. The meeting will be held in the SLE Tech Lab. Thanks!

Outdoor adventure: For tomorrow reminder kids need to bring towels, sandals/water shoes. Sunshirts if they have them. Kids are also allowed to bring their fishing poles if they would like. Thanks

Outdoor Adventure Club "OAC" is adjusting their day tomorrow. They will be going into Missoula tomorrow morning to hike the "L" and then go to the Library to use their Science center. The bus will be leaving around 9:20-30ish. Water days will start next week!


**Reminder** Our creative movement class is tomorrow through Thursday. 1st-3rd graders 2-3 4th-6th graders are 3-4 Also our Reading and Math Enhancement class are Monday's and Wednesday from 10:00 - noon

BAKE SALE TODAY, After school Please come support our 7th grade (class of 2027). They will be set up in front of the school. If weather is bad, they will move it into the entry way.

Tuesday, June 7 - Talent show 2:00 in lunchroom Wednesday, June 8 - 8th grade graduation 6:30 Thursday, June 9 - Last day of school 12:30 dismissal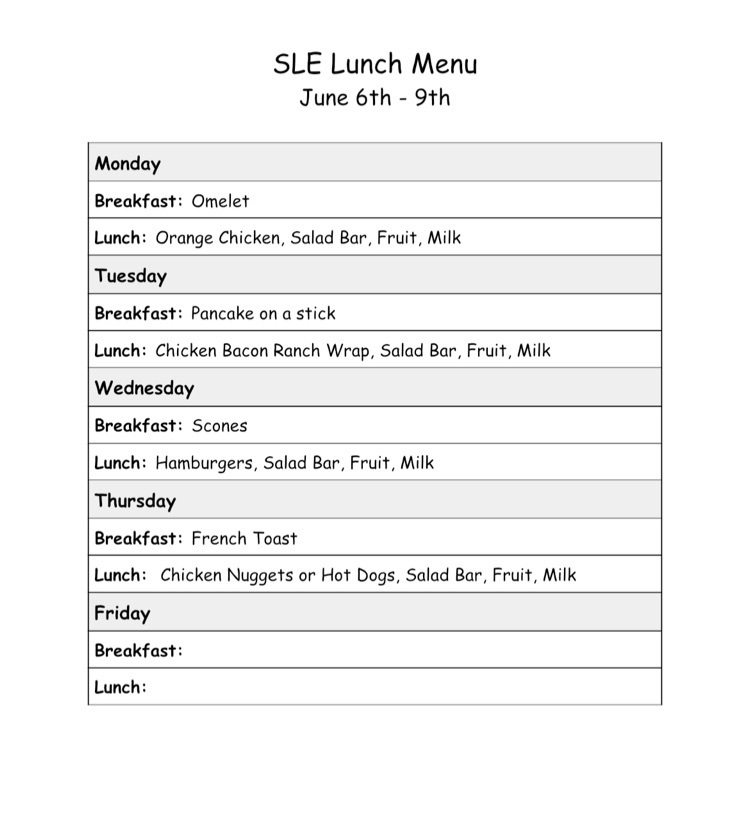 Tuesday, May 31 - Choir/Band Concert 6:30 @ HS Thursday, June 2- Last day for PK Thursday, June 2 - Last day of STEAM Friday, June 3 - Last day for TK and K Friday, June 3 - 8th grade field trip Tuesday, June 7 - Talent show 2:00 in lunchroom Wednesday, June 8 - 8th grade graduation 6:30 Thursday, June 9 - Last day of school 12:30 dismissal